June Membership Meeting
June 18 @ 8:00 am

-

12:00 pm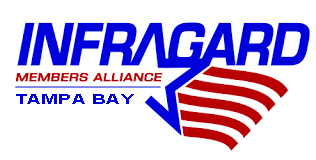 Asking for a $10 donation to cover Breakfast.
Breakfast will be provided to attendees.
---
Half-Day Event
Tuesday, June 18, 2018
8:00 a.m. to 12:00 p.m.
---
LOCATION & VENUE SPONSOR:  Tech Data – Raymund Center
Please join us in thanking TechData!
---
Directions to Tech Data Campus – Raymund Center
From US 19 and Roosevelt Blvd. (686): Turn east onto Roosevelt Blvd. and head east until you reach Bay Vista Business Center. Turn left into the entrance and follow the road until you reach a 3-way stop and turn left.  Continue straight until you reach a 4-story building with flags on the left.
---
BREAKFAST SPONSOR:  SHASTEEN & PERCY, PA
---
8:00AM – REGISTRATION
Please note:  Attendees will be asked to present an InfraGard Membership Card or government-issued photo ID to verify InfraGard membership.
8:50AM – WELCOME & RECOGNITION OF SPONSORS
9AM – FBI Briefing: Human Trafficking
FBI – Special Agent Greg Christopher
SA Greg Christopher will discuss an Overview of Human Trafficking in the Tampa area, and more specifically Domestic Minor Sex Trafficking and the FBI Innocence Lost National Imitative.Background:  Human trafficking, believed to be the third-largest criminal activity in the world, is a form of human slavery which must be addressed at the interagency level. Human trafficking includes forced labor, domestic servitude, and commercial sex trafficking. It involves both U.S. citizens and foreigners alike and has no demographic restrictions. The FBI works human trafficking cases under both its Civil Rights program and its Violent Crimes Against Children program. The majority of human trafficking victims in FBI cases are U.S. citizens.The term "human trafficking" is used in common parlance to describe many forms of exploitation of human beings.  While these words often evoke images of undocumented migrants being smuggled across international borders, the term has a different and highly specific meaning under the United States Criminal Code.  Human trafficking crimes focus on the act of compelling or coercing a person's labor, services or commercial sex acts.  The coercion can be subtle or overt, physical or psychological, but it is used to coerce a victim into performing labor, services or commercial sex acts.  Contrary to some misconceptions, human trafficking crimes do not require any smuggling or movement of the victim.
10AM – Are Threats to the Nation's Electrical Grid Hiding from View?
George Freeman, Senior Information Security Advisor and Consultant
Rural Electric Cooperatives (RECs) could become the next critical infrastructure target for attacks on the Nation's Electrical Grid. The history of the grid system and how it arose created a number of vulnerabilities, some of which are difficult and expensive to address.  The goal of this presentation is to provide a better understanding of the nature of certain vulnerabilities facing "the grid", how they arose, what must be done to address them and the consequences our nation could face if they remain unaddressed.
11AM – Personal Awareness 202
Russell Ricalde – Founder & President
ITAC Services, LLC
Personal Awareness 2020 is an introduction to understanding the threats we face today.   By studying past events and current threats, and exploring our vulnerabilities and limitations, we can enhance our chances of surviving what could be the worst day of our lives.  During a Mass Casualty Event, conditions develop quickly.  As evidenced during numerous active shooter and terrorist incidents over the past several years, consequences can be devastating and cause lasting psychological and economic damage.  Action is faster than reaction, always putting the victims at a disadvantage.  Since the attacker(s) choose the time and place, we cannot rely on our first responders to prevent these tragedies.   Once a Mass Casualty Event has begun, many conditions can influence the outcome.  Mental preparedness, biological responses, environmental conditions, moral considerations, personal experience and training, are some of the factors that ultimately determine an individual's ability to respond and survive.
---
A BIG THANK YOU TO OUR EXPERT SPEAKERS, INCLUDING THE FBI
---
George Freeman
Presentation: Are Threats to the Nation's Electrical Grid Hiding from View?
George Freeman is a Senior Information Security Advisor and Consultant. His certifications include CISA (Certified Information System Auditor), MCSE Security (Microsoft Certified Systems Expert) and CCSE/CCSI (Check Point Certified Security Expert/Instructor).  He is also a member of the Information Systems Audit and Control Association.
George has spent more than 20 years working as an information security consultant for various companies. He has implemented international security mitigation and redundancy e-business connectivity solutions. He has also performed technical and controls security assessments for corporate and SLED organizations going back 15 years. He has also provided long term security consulting for federal agencies and has provided cloud security assessments and transition services and security guidance for cloud migrations.
Notably, George has performed cybersecurity operations consulting assessments for several multinational customer security operations centers.  He has provided cloud security and code security review for a financial institution's loan management system prior to SaaS deployment.  He has also implemented numerous multinational security controls solutions.  His experience includes systems serving critical infrastructure, federal, health, education, financial, insurance, manufacturing and retail sectors.  He is also familiar with CSA, HIPAA, NEERC/FERC and GDPR security and privacy regulations related to computer-related systems and information.
Russell Ricalde | Founder & President | ITAC Services, LLC
Presentation: Personal Awareness 2020
Russell Ricalde is the President and founder of ITAC Services.  A Retired Federal Agent with 25 years of experience.  Russell began as a Special Agent with U.S. Department of State, Bureau of Diplomatic Security, where he performed national and international Protective Security for several Secretaries of State and other distinguished guests.  With extensive experience in the federal and state criminal justice systems, Russell investigated violent crime, narcotics, and street gangs in high-crime neighborhoods to include Baltimore, Miami, Chicago, and San Juan, Puerto Rico.
Russell served 12 years as the Team Leader of the U.S. Department of Homeland Security, Homeland Security Investigations, Special Response Team, and deployed during 9-11 in New York City, the devastating earthquake in Haiti, and Hurricane Katrina in New Orleans.  Prior to that time, he served as Special Agent for HUD, the Department of Commerce and the Department of State.
Russell is a Florida licensed Private Investigator and Firearms Instructor with over 30 years of experience in mixed martial arts and self-defense.
---
A BIG THANK YOU TO OUR EXPERT SPEAKERS, SPONSORS AND THE FBI
---
SPONSORS
---